Fundamentals

Football Combative's fundamentals teach players and coaches the details of building proper form and correct technique in pass rush.

Online Videos

View and learn defensive handwork tactics with online instructional videos. Our proven techniques focus on delivering results on the field.

Coach Joe Kim

Benefit from the same training and hand and footwork techniques Coach Joe Kim teaches the professional NFL pass rush players he trains with.
HOW COACH JOE KIM GETS RESULTS
JUSTIN HOUSTON

NFL All Pro LB

NFL NETWORK

All Pro Pass Rusher Tamba Hali

ROPE DRILL

Purpose-Driven Hip Mobility Warm Up

COMBO DRILL

All Pro Pass Rusher Tamba Hali
LEARN PASS RUSH HANDWORK TACTICS THAT MAKE A DIFFERENCE ON THE FIELD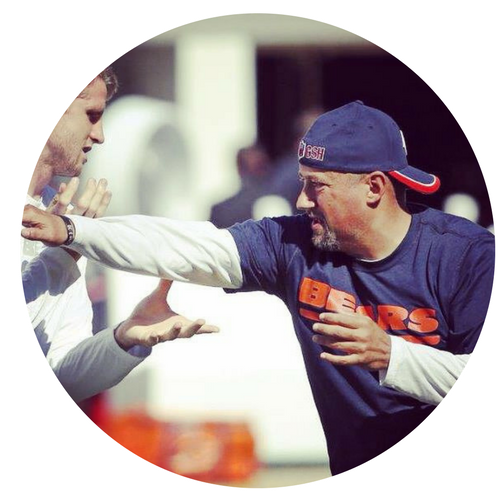 FOOTBALL COMBATIVES POWERED BY JOE KIM
For over 26 years, Coach Joe Kim as been applying the hand fighting techniques he honed as a U.S. National Taekwondo Team member to improve the skills, ability and defensive performance of pass rushers in their pursuit of the quarterback.
His proven strategies focus on showing players how the placement, timing and speed of their hands, feet and hips can translate into throwing their opponents off-balance, outmaneuvering tackles and winning their individual matchups.
Coach Joe Kim has worked for 11 NFL teams and developed some of the NFL's premier pass rushers including Tamba Hali, Justin Houston, Jason Taylor, Anthony Pleasant, Aaron Kampman, Kyle Williams, and Elvis Dumervil to just name a few.
DEFENSIVE HAND & FOOTWORK DRILLS TO IMPROVE YOUR GAME PERFORMANCE
WHAT COACHES AND PLAYERS SAY ABOUT COACH JOE KIM
"Joe Kim's technique is what made me the pass rusher I am today"

Justin Houston

Kansas City Chiefs

Pro Bowl Linebacker

"Joe Kim is tremendous. His blend of martial arts expertise, football background and an ability to train all athletes makes him one of the best"

Bill Belichick

Head Coach

New England Patriots

"Joe Kim is simply the best teacher. Teams should be lining up to get his services"

Tamba Hali

Kansas City Chiefs

Pro Bowl Linebacker